14th Sep 2021
Historic Burials Excavated in Ballinasloe Discovered With 400 Year-Old Rosary Beads
Archaeologists from Atlantic Archaeology excavated human remains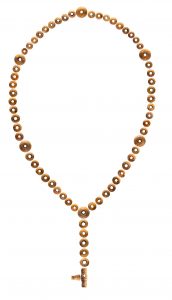 separated by approximately a thousand years at two different locations in Ballinasloe, Co. Galway. The upgrade work for this area was carried out as part of the Water Services Infrastructure Upgrade and Town Enhancement Scheme (TES) in Ballinasloe, Co. Galway. One of the burials was accompanied by a rare bone paternoster or set of rosary beads.
The earliest remains were found by archaeologists Nuala Hiney and Angela Wallace during site investigation works in St. Joseph's Place on the western side of the town in 2011. Radiocarbon dated to between the 6th and 7th centuries AD, they are associated with the site of a church and cemetery levelled during the construction of the housing estate in the 1950s. As such, the dates confirm the presence of a religious community in the area during the early medieval period (400-800AD).
In May 2020, a small cemetery was discovered in Society Street by archaeologist Fiona Maguire who is a native of Ballinasloe. Although this area was quite disturbed by modern services, the skeletal remains of at least 10 individuals, both adults and children, were identified. A remarkably well-preserved set of rosary beads or paternoster, consisting of 67 bone beads, was found around the foot and lower leg of one of the adult skeletons. This burial was identified as female aged between 35-44 years and was dated to 1477-1638 AD. The associated find of paternoster rosary beads are between 400-500 years old. A well was also found next to the burials, which lies preserved below the renovated footpath.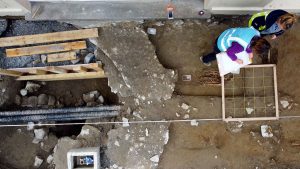 This two and a half year project was undertaken by SIAC in conjunction with Ryan Hanley Consultant Engineers on behalf of Irish Water and Galway County Council. John Killeen of SIAC, also a native of Ballinasloe, said "The unpredictable nature of archaeological material turning up during the project posed challenges, but with good communication amongst the project team we were able to support the archaeologists, work with the designers from Ryan-Hanleys, and Galway County Council, the Employer, to develop the best possible solutions for all".
During the archaeological monitoring of the upgrade works some interesting artefacts and structural remains were uncovered. They included a trade token and coin (dating to the 17th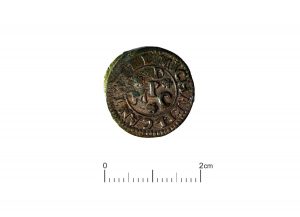 century) as well as the foundations of the Market House (built 1750-1850) in St. Michael's Square. Correspondingly, the scale of engineering work involved in the design of the early town was reflected in the preservation of cut stone culverts, cast iron gas, water and sewage pipes and a clay levelling layer under some of the streets.
The discoveries revealed during this project contribute significantly to the understanding of the early history of Ballinasloe and its people. It is hoped that they will also contribute to the development of a heritage plan for this important and very old market town. Angela Wallace Director of Atlantic Archaeology said "We hope the new information and research collected during this project will be useful to further the promotion and protection of Ballinasloe's Heritage".
Atlantic Archaeology have commisioned a short video presentation on findings from the project for Culture Night this Friday 17th September. Video will be accessible through Atlantic Archaeology youtube channel, link will be posted on Atlantic Archaeology and Galway Community Archaeology Facebook https://www.facebook.com/GalwayCommunityArchaeology pages on Friday. It is also hoped to schedule an in person talk on findings in Ballinasloe Library as soon as Covid restrictions will allow.
A full presentation with detailed further information on this finding can be found in the following video:
You can download detailed archaeological reports linked to this project here: 
---
10th March 2021
Bloodsports and Boozing at the Barracks? Excavations at Athlone Garda Barracks offer a revealing insight into the life of a 17th century soldier.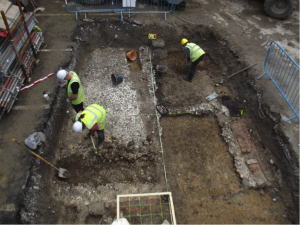 Atlantic Archaeology, in conjunction with Kilcawley Construction and the Office of Public Works, has unearthed many interesting finds during monitoring excavation work to the rear of the new Garda Station on Barrack St., Athlone, Co. Westmeath.
These recent discoveries, found amidst a perfectly preserved cobbled area and courtyard surface, offer a fascinating glimpse into the everyday life of the first soldiers stationed at Athlone during the foundation of Custume Barracks, formerly Victoria Barracks, circa 1690.
Together, these objects suggest the soldiers had time away from the stresses of battle and controlling the colonies to indulge in drinking, smoking and gambling on blood sports.
Zoo-archaeologist Siobhan Duffy identified a lower leg-bone from a male chicken which had the characteristic spur sawn off at approximately mid-way along its length. "This procedure would have been carried out during the bird's life, to facilitate the attachment of an artificial spur for the purposes of cockfighting.", Duffy explained.
Artificial spurs were made of bone or metal and there is documentary evidence of metal spurs being used in both Ireland and Britain in the nineteenth century. At this time, cockfighting was still in its heyday. It was a potentially lucrative enterprise, regarded as a sport worthy of the powerful elite and strongly associated with masculinity, before the changing sensibilities of the nineteenth century forced it to the periphery of societal acceptance.
The many clay pipe fragments dating between 1640 and 1670, coupled with the findings of glass specialist Antoine Giacommetti, reinforce this theory of elite status activities at the site.   Giacommetti identified some fragments of fine 17th century glass beakers or tumblers used as drinking vessels and a shaft and globe bottle used to serve wine. Both vessels would have been used at the table in a relatively affluent context, as they are quite rare in Ireland.
Many soldiers during this time wore their hair closely shaven to avoid lice infestations and more senior officers wore grand wigs. A fine-toothed bone comb used to control lice and a clay curler were found during excavation. The latter, once heated, would have been used to style the wigs. Other items were found relating to personal dress and hygiene including many small dress pins, a thimble, buttons and buckles used for uniforms.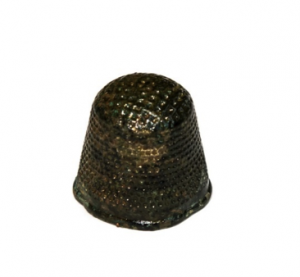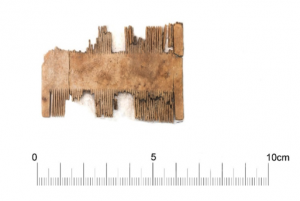 Regarding weaponry, two small lead musket balls were found among the cobbled layer. A musket is the name given to any long gun with a flintlock and were in use from the mid 16th century onwards.
Other metal artifacts included two George II coins, dating 1727-60 and 1753, and two George III coins, one of which was datable to 1766. With the kind assistance of local historian Harman Murtagh, it seems likely that the '17 LD' inscribed on a copper alloy uniform fitting is linked to the 17th Light Dragoons.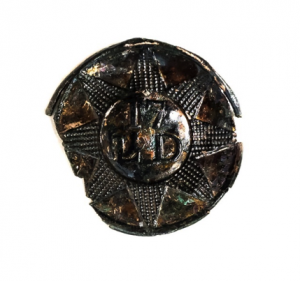 "In 1759, Colonel John Hale was granted permission to raise a regiment of light dragoons. In 1764 the regiment went to Ireland. The regiment was sent to North America in 1775, for the American Revolutionary War, returning to Ireland after that contest ended, where it remained until 1795".
To date, there has been no other extensive excavation carried out on a military barracks in Ireland that has produced such a wide range of artifacts and ecofacts informing us of the social and domestic activities of soldiers during this period.
A talk on the findings will be held on Thursday 20th August 2020 at 1:00pm in Athlone Castle as part of their Heritage Week events, it is also planned to stream this event on Athlone Castle social media channels to facilitate a wider audience, details at www.athlonecastle.ie
Download more details here.
For any further information please contact Angela Wallace.
Artefact Images by Denise K Images
© No material or images in this report to be used without permission of the authors